---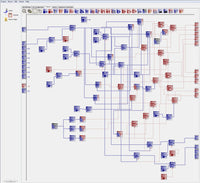 Part #: MBus_ioFlash_Pro
The MBus_ioFlash software is a graphical programming tool that can be used to program any of DataNab's Programmable I/O Devices. Please watch the video below for more information.
In order to connect this software from a computer to our MBus_io12_LCD or MBus_io14_DIN devices, you can use our USB->RS485 converter or this Ethernet->RS485 converter from Grid Connect.
There is a free version of MBus_ioFlash which is fully functional and can be used to program any of the devices and is sufficient for most applications. There is also a "PRO" version which costs $495 and has additional features such as:
Support for much larger programs
TXT Function block with enables users to show custom text strings on the LCD display
Clock and RTC Function blocks for on board schedules and other real time clock applications.
The ability for the device to act as a modbus master on the RS485 network through the use of RAV and WAV blocks.
You can download either version of the software here MBus_IoFlash Software.
Online Manual and Help:  MBus_ioFlash Online Programming Guide

We recommend that you start with the free version and if that meets your needs you are good to go! If you'd like to check out the PRO version, you can download and install that version also, and it will run fully featured for 15 minutes at a time.

If after installing and testing the PRO version you decide that it would be a better fit for your application and you'd like to purchase a license, then the first step is to find your "Installation Code" by going to the Help menu of the MBus_ioFlash_Pro software and clicking on "Authorization".

Once you have your "Installation Code", add this product to your cart and go to checkout. In the first step of the checkout process paste your Installation Code into the "Special Instructions for seller" box and then continue the rest of the check out process.  You can also email us the Installation Code.

Once we receive your order we will generate a license file for you and then email it to you. You can paste this file into the MBus_ioFlash_PRO installation folder, and then the next time that you run the software it should be licensed and run without the 15 minute restriction.  It usually takes us approx 1-2 days to email your license file after receiving your order.